Each year Canadians gather on October 17 for Chew On This! as they mark the International Day for the Eradication of Poverty.

For the past four years, Canadians have been serving up food for thought on street corners in cities across the country. Poverty activists and people passionate about human rights, are calling for a Federal Anti-Poverty Plan to eradicate poverty and hunger for the 850,000 people in Canada who use food banks each month and the millions of others struggling to get by.
Last year, over 51 teams joined the campaign by handing out ChewOnThis! materials and engaging passersby on food insecurity and the need for a national anti-poverty plan. This October, we're planning to have 100 groups across the country join us as we draw attention to poverty and food insecurity in Canada.
If you would like to organize a local Chew on This! event, please visit the Organizers' Page.
In Canada, hunger is a real problem.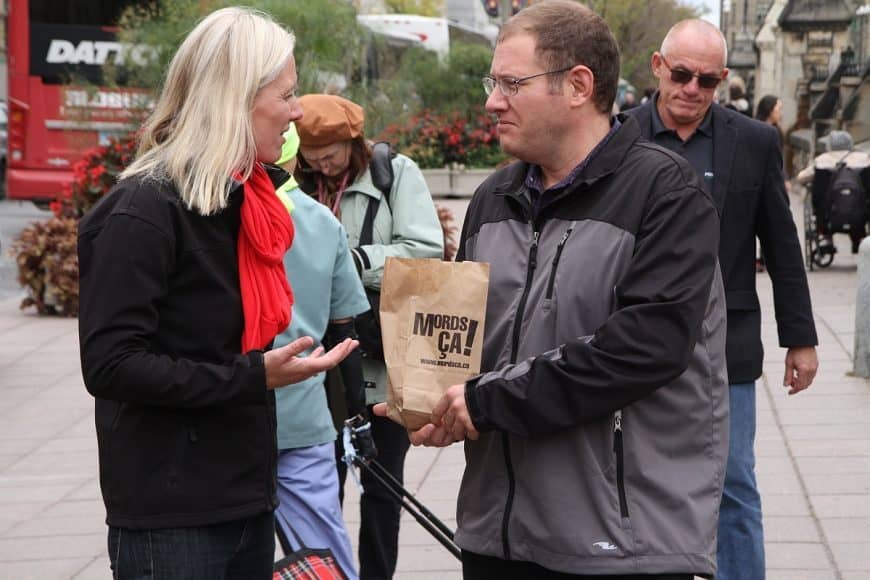 If food banks, soup kitchens, and other front line agencies across the country were to shut down tomorrow, poverty and hunger would become much more visible.
852,000 people in Canada visit the food bank each month.
1 in 3 people helped by food banks in Canada are children.
Food banks were started in Canada in the early 1980s as a temporary way to address hunger. They were never intended to be a permanent measure.
1 in 8 people in Canada experience some level of food insecurity.
Why a Federal Anti-Poverty Plan?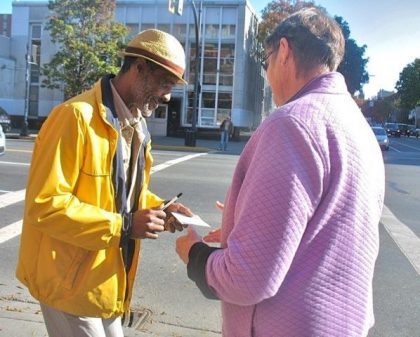 While charity is necessary in helping survive right now, it doesn't address poverty's root causes. A comprehensive approach that guarantees a right to food for all people in Canada is key to eliminating poverty. But we still don't have a plan. government controls income security payments, tax benefits, pensions, and the vital funding for provincial/territorial health and social service programs. The federal government is responsible under international human rights law to eradicate poverty. Committees from the House of Commons, Senate, and the United Nations have all said that Canada needs a Federal Anti-Poverty Plan.
Dignity for All
The model National Anti-Poverty Plan is an outline for a responsibly funded and accountable strategy to eradicate poverty with a focus on six key areas including food security. Endorse the Dignity for All campaign and join Chew On This! next fall to help make poverty an issue for decision makers.